At Genesis of West Columbia, we want to help local drivers find the perfect luxury vehicle for exploring Irmo, Lexington, and Columbia in true sophistication. In this car comparison, you'll witness a Genesis G80 vs. Kia Stinger face-off that'll have you asking, "Which model suits my needs best?"
We'll compare some essential features and capabilities, so you can see how these rides look side-by-side. If you have any questions, we're here to answer them-just reach out to us!
2018 G80 vs Stinger: Performance Specs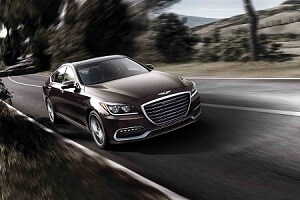 What are the 2018 G80 and Stinger packing under their hoods? Let's start with the Stinger, all-new for the 2018 model year. It has a base twin-turbocharged 2.0L 4-cylinder engine that puts out 255 horsepower for an accelerative ride around town.
The base G80 packs an even bigger punch with its 3.8L V6. That engine kicks out 311 horsepower. Look to the upper trim levels of each car model, and you'll see that the G80 retains its advantages with a 5.0L V8 (420 horsepower) compared to the Stinger's twin-turbocharged 3.3L V6 (365 horsepower).
Both vehicles employ a smooth-shifting 8-speed automatic transmission, no matter which engine you opt for. They also offer steering-wheel-mounted paddle shifters, so you can enjoy a bit more control (and fun) when you're out on the road.
Getting Comfortable: Cabin Dimensions
As spacious as these two cars are, there's no avoiding the fact that the Genesis G80, with 107.7 cubic feet of passenger volume, has more room to play with than the Stinger, with just 93.8 cubic feet. The difference makes the G80 more accommodating for tall riders, wherever they choose to sit.
Indeed, the G80 offers an incredible 41 inches of front-row headroom, while the Stinger falls behind with just a bit over 38 inches. In the rear, the Stinger's 37 inches of headroom may make it difficult for people over six feet tall to sit in comfort. The G80 backseat, with 38.2 inches of headroom, doesn't have that problem.
Safety Features for Your Peace of Mind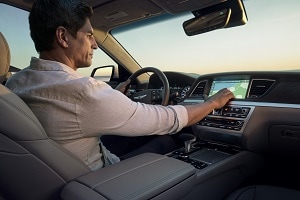 When it comes to accident avoidance, the 2018 G80 and Stinger offer several driver-assistive features to act as extensions of your senses on the road. You can find technologies like:
Adaptive Cruise Control, which automatically adjusts your speed to keep a preset distance from the car ahead of you.
Forward Collision Warning plus Automatic Braking, which can alert you to an impending frontal collision and help apply the brakes if necessary.
Lane Keep Assist, which can warn you and apply corrective steering if you start drifting from your lane.
They're all useful accident prevention and mitigation systems. However, they only come standard on the G80. You can get them on the Stinger, but they're exclusive to higher trim levels.
Genesis G80 vs Kia Stinger: Which Car Will You Choose?
Now that you've read our Genesis G80 vs. Kia Stinger car comparison, which luxury vehicle seems more fitted for your needs? As you drive around Columbia, Lexington, or Irmo, will you want more powerful engines, more headroom, or more standard safety features?
If you value those qualities, the 2018 Genesis G80 may be exactly what you're searching for-despite the Stinger's impressive efforts. Schedule a test drive at Genesis of West Columbia and decide for yourself!