Why choose a luxury car for your daily drive near Columbia, Lexington, or Irmo? Those lavish amenities, sophisticated features, and growling engines certainly have their appeal.
In this 2019 Genesis G80 vs. INFINITI Q50 comparison, we want to show you how two top contenders in the segment fare in a head-to-head face-off. Which is the right vehicle for you? Only you can decide, but reach out to us at Genesis of West Columbia if you have any questions!
G80 vs Q50: Engine Specifications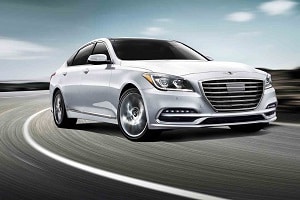 You have multiple engine options in the G80 and Q50, and you'll be happy to hear they both max out with plenty of power under the hood. The most potent powertrain in the Genesis car is a 420-horsepower V8, which is well matched with the 400-horsepower twin-turbo V6 in the top trim level of the Q50.  
If you're considering the base trims, however, you'll find the G80 much more robust. The turbocharged 4-cylinder in the base INFINITI car offers 208 horsepower, which is enough for daily driving but can feel a bit underwhelming on the highway. The standard 311-horsepower V6 in the G80 is far livelier.
Cabin Comforts: Interior Features
The Genesis G80 and INFINITI Q50 are both luxury sedans, but the former slots in the midsize segment while the latter is a small car. If you're looking for a roomier vehicle for your cargo, the G80 can deliver.
It offers 15.3 cubic feet of cargo volume in the trunk, which is significantly more than the 13.2 cubic feet you'll find in the Q50 trunk. You'll have room for more shopping bags or an extra piece of carry-on luggage for your next weekend trip.
In the cabins themselves, you'll find plenty of comfort in either car, with features like heated seats coming standard, to help you acclimate on those chilly mornings. Still, only the G80 has standard leather seats-the Q50 offers imitation leather standard, and you'll need to upgrade to get the real thing.
Advanced Technology Features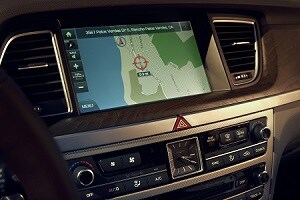 Everyone enjoys a healthy dose of music during their daily drive. For a listening experience that draws you in and makes you feel as if you're sitting front-row at a live show, these cars' premium sound systems are a real treat.
The available 17-speaker Lexicon® system in the G80 and 16-speaker Bose® system in the Q50 both deliver crystal-clear highs and deep, rich bass notes. However, only the G80 audio system offers Clari-Fi™ Music Restoration Technology to rebuild details that were lost during digital compression to give your music an authentic flavor. 
In the upper-level trims, both luxury sedans offer a moonroof to let you open your ride to the skies. However, only the G80 moonroof is panoramic, extending over the backseat as well as the front for a fuller effect.
Genesis G80 vs INFINITI Q50: Choose Your Luxury Car
We want to give Columbia, Lexington, and Irmo drivers all the information they need to choose the right luxury car for them. Now that you've read our 2019 Genesis G80 vs. INFINITI Q50 comparison, what's your opinion?
While both vehicles offer plenty of deluxe features befitting their premium place in the market, if you want a more powerful base engine, a more spacious trunk, and more impressive materials and tech features, the G80 stands out in key ways. Schedule a test drive at Genesis of West Columbia and see what you think!